FCA of Illinois contractor members are signatory to a Collective Bargaining Agreement (CBA) with Painters District Council #30, which is headquartered in Aurora, Illinois.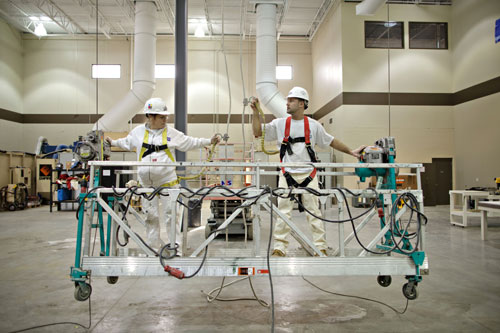 Painters District Council #30 covers a territory made up of 29 Illinois counties in Northern and Central Illinois, and three counties in Southern Wisconsin. The Council is made up of nine local unions and belongs to the American Federation of Labor and Congress of Industrial Organizations, or AFL-CIO (national and state chapter), particularly its Building and Construction Trades Department (BCTD).
Employers signatory to a PDC #30 collective bargaining agreement enjoy an industry partnership with a progressive and innovative union.
Together, stakeholders of this labor-management relationship enjoy several advantages:
Union employees train in the most advanced techniques in the industry.
Union employees have access to continual training to enhance their already-advanced skill levels.
Union employees perform a range of work-place safety activities.
Union employees are accountable to both their employer and the Union, making them more responsible and reliable.
Union employees receive a fair wage and benefits that motivate them to do work of outstanding quality.
The Union maintains records of individual credentials and certifications that can be accessed by the employer.
Union Contractors play an important role in the health of the economy and the enhancement of the lives of their employees.
Members of PDC #30 belong to the International Union of Painters and Allied Trades, or IUPAT.
If you are an FCA of Illinois Contractor or a NIPDI Contributing Contractor, please visit the Painters District Council #30 Website for important information about your contract with the Union.
Check for the current Wage Rates for your employers.