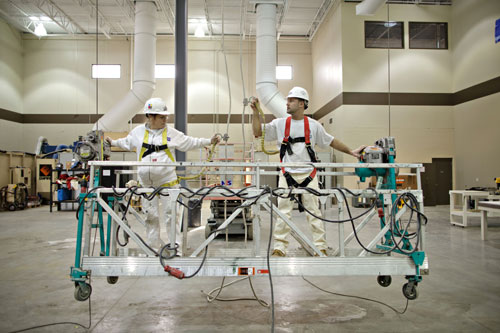 To be eligible for FCAI membership, a contractor must directly employ individuals on his or her payroll or be a sole proprietor who performs some craft work. Those employees must perform all or some of the craft labor involved in painting, glazing and allied trade industries, drywall hanging or taping, interior ceiling or wall systems, AND must be signatory to any IUPAT agreement or applicable local agreement and a contributor to the Painters and Allied Trades Labor Management Cooperation Initiative.
---
The Benefits of Contractor Membership
Collective Bargaining Agreement negotiations on your behalf
We all know and it has been proven there is strength in numbers. FCAI negotiates and executes labor agreements on behalf of its contractor members with Painters District Council No. 30. Associations are a collection of like-minded individuals committed to specific goals designed to benefit its members. Let us put our strengths – the business experience of the board, association attorneys, staff, and negotiators – to work for you to obtain the best results possible in the bargaining process.
Exclusive public listing on the FCAI website
Your potential customers can find your business through our Contractor Locator feature on our website. You must be an FCAI member to be listed.
Representation in Springfield and Washington DC
FCAI partners with the Illinois Mechanical and Specialty Contractors Association (IMSCA) to represent your interests in Springfield. We are also part of FCA International and the Quality Construction Alliance (QCA), both of which have a presence and perform Lobbying in Washington. FCAI representatives meet regularly with Illinois legislators in Springfield and Washington DC.
Free membership meetings, networking, regional events, subscriptions to ENews, Bulletin, Webinars, and membership in the National FCA
Almost everything FCAI offers is free – including membership!
Marketing & promotion of FCAI contractors at tradeshows and industry events through the Bid Evolution
Putting your LMIDF contributions to work. FCAI markets and promotes your company through a variety of different conferences and tradeshows. We help you establish relationships with commercial, industrial, and institutional building owners, managers, property owners, and developers to help increase your market share.
Timely Education
Whenever there is a pressing issue in the industry, FCAI will offer opportunities for education on the topic. Past seminars and webinars have included right-to-work, prevailing wage, unfunded liability, proper safety standards, and silica exposure.
Scholarships
Each year FCAI grants students money who are pursuing higher education. Each FCAI Contractor Company can nominate one person to receive the scholarship. The nominee is not required to be related to or employed by an FCAI contributing contractor.
Rebate Program
FCAI hosts an annual supplier trade show where FCAI contractor companies receive a determined dollar amount in rebate vouchers to spend with any of the suppliers present at the trade show. In the last several years, FCAI has given between $1,000-$3,000 to each contractor company. This program could save your company thousands of dollars.